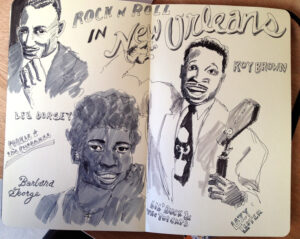 "Jews and Gentiles, the Frenchman, Italian, Spaniard, German, and American, all conditions and occupations…What a hubbub! what an assemblage of strange faces, of the representatives of distinct people! What a contact of beauty and deformity, of vulgarity and good-breeding! What a collection of costumes… !  – H. Didimus (Edward Henry Durell), 1835-36
"Instead of a healthy American population, speaking the language of Webster, we have gouging Jews, dark Spaniards, treacherous Sicilians, rat-catching Chinamen, lurking Creoles, lazy negroes, and sprinkling of Yankees…bent on making a fortune." -A Peep at New Orleans, in the Boston Post, 1863
I just got back from a week in New Orleans where the only camera I took (deliberately) was my newish iPhone 4S, equipped with Hipstamatic. I was mostly working at a conference and didn't have a lot of time to go out, but I did manage a few dinners in the Big Easy (I prefer its now-defunct nickname The City Care Forgot).
In an attempt to soak up some regime ancien New Orleans atmosphere, esp now that such hoary, cobwebby places as Corrine Dunbars, where I ate a still-memorable meal 47 years ago, are long gone, I went to Oliviers for their Rabbit Creole. This dish was the standard signature dish of the city in the 19th century, though rare today in a city whose endless supply of tourists are besotted with the endless supply of crawfish and 'ersters'.It was a nice enough meal, which began with a brilliantly simple amuse of a slice of fresh hot cornbread in a small pool of melted honey butter but in the end it was a disappointment. The sauce was kinda bland, the rabbit was even blander, though redeemed by the oyster stuffing, and the peach cobbler had a pit in it. The only glass of wine they had that remotely resembled the sort of plonk that would have been served in 1895 was an Argentine red of indeterminate character, not awful, but not interesting either. The old room had been renovated with big floor tiles from Home Depot, the waiters were a bit too friendly and familiar and the whole thing felt like a casual let-down. A good lesson in the folly of having big expectations, I guess.
Much more fun was Mother's, an institution in this city since 1938, serving great plastic plates heaped with baked ham, turnip greens, gumbo and shrimp and whatnot. Ate two dinners and a breakfast at the place and I definitely recommend breakfast, just to watch the local businessmen plotting their day over baked ham and grits.
Another find, for which I was lauded by a local who was impressed I went so deep into the city, was the BBQ Shrimp Po-boy at a small, out-of-the-way bar and grill called Liuzzas By The Track. Not to be confused with other Liuzzas around town, which include two groceries and another bar. This was a truly great sandwich which I had with some iced tea, sitting at the bar watching, on my left, a NASCAR race and, on my right, the latest races at Santa Anita and other horse tracks around the country. Very satisfying.
But what I want to share with you, really, is the meal I had at a place called Root. The chef is a guy named Phillip Lopez and it presents itself as a young, somewhat trendy, noisy place in the artsy warehouse district. In fact, it is just around the corner from Emerils and six or seven other such places. As a Californian you would recognize the place in an instant. I sat at the bar and the friendly and sympatico barman introduced me to a NOLA brown ale. Now, in New Orleans these days everyone drinks Abita, which is a respectable local brewery that makes several popular beers, but NOLA is the only beer made in the city and is actually made about a mile from Root. And it was delish.
The meal started with an amuse that I can't remember except that this really cute woman brought it out from the kitchen and flirted with me a bit, which is always a good way to start a meal, I think. Then I had the Juniper-cured Duck Prosciutto which came on a wooden slab covered in various add-ons and condiments like pickled brussel sprouts and lemons peels, a shitake-ginger marmalade, tangelo slices, some unidentified veggie thing and, get this, a lovely tube of the mustard of the day, which happened to be a pumpkin mustard. They make a new one each day, fill these little tubes and…fun. And the paper-thin duck was superb.So, OK, I thought, it's one of THOSE places, experimental, edgy, and things could be sublime or go all pear-shaped in an instant. My usual experience  in such restaurants is that they get each little dish right but are unable to orchestrate the whole meal and you wind up feeling like you've sampled a bunch of things your stomach will complain about all night.
So I decided to help them by approaching the rest of the meal thematically. I said, I want the most traditional New Orleans entree and dessert you have. No problem. They brought out a dish of Smoked Cornmeal Encrusted Oysters on a bed of Hoppin John and topped with the most evanescent Mustard Greens foam. Wonderful. And for dessert I had a choice. Indian Falooda: Louisiana Citrus, rehydrated basil seeds, blueberry Vermicelli, with Meyers Lemon Thyme Sorbet and Moroccan Coconut Milk.Nah. I went really local: the same flirty gal came out and offered to help me eat a Bergamot Bread Pudding, with Toasted Pecan Butter, White Gin Caramel, Pine Nut Coconib Croquant, and a Satsuma Balsam Fir Sorbet. I coulda eaten three of them and two of her. Had a cuppa tea and paid my $49 and went home happy.
I used my iPhone for some nice creepy New Orleanian B&W pictures, sort of an homage to Clarence Laughlin, one of the great surrealist Southern Gothic photographers (and a big influence in my youth) who lived for years in an attic of the Pontalba Building on Jackson Sq. I'll put a gallery of them up here as soon as I remember how to.
I haunted a few old dusty bookstores, hit the museums (the New Orleans Museum of Art, the Sculpture Garden next to it, the Ogden Museum of Southern Art, the Contemporary Art Center across the street, and some galleries. Lots to see that was worthwhile and inspiring. I had no idea that Miro's 'Lady Strolling along the Ramblas' was here. It was a real delight to see it in person. Discovered some artists I liked: Wellman Sharlhorne, Minnie Evans, both outsider artists; the photographer Deborah Luster had a great show up; a guy named Fleetwood Covington did some fun things. I saw a street band anchored by the biggest bass kora I ever saw. I met the guy and chatted for a bit and bought their CD (The Assembly Kora Band).
And I commissioned a poem from a young street poet. He asks for a theme and a donation, and then writes you a custom poem. We were literally standing across from the very alley where I was arrested in 1966 (ostensibly for suspected armed robbery, but really for being a longhair) and just behind where I was arrested earlier the same day for indecent exposure ( I was dancing with a topless girl in Jackson Sq). Same cop both times, and both times the desk officer sent me back out without booking me.  So I told him the story and he wrote a poem for me and I gave him $11. It's a good poem, too:
1966
The year for imposing your
will on the universe.
Dreams deferred because
you looked suspicious, devious
your pious devotion to the
skin of a woman's chest
tracing the wilderness of freckles
across her stomach.
You can't dance with your intellect
the cop in blue said.
Innocence electrified by the madcap
current, the danger of
living out loud.
The B-flat blues.
The only bank you robbed was filled
not with money, but with words
now you are free to write the world
into existence. Write it well.   -David Blanton